SEMRush is one of the best and most complete SEO tools available, with it you can perform a complete SEO analysis, competitor analysis and keyword rank tracker, besides having excellent resources for those who create and manage sponsored links campaigns.
What is SEMRush anyway?
SEMRush is a tool used to analyze organic results (SEO) and Google Adwords (PPC and sponsored links) through a simple but very efficient online interface. Through it, it's possible to analyze how many and which keywords your site or a specific page of your site or of a competitor are positioned in search results and consequently bring more traffic, both in organic and Adwords.
Furthermore, for PPC media professionals, SEMRush displays the average CPC of keywords, helping a lot in media planning to define how much to pay per click and which keywords will be used in campaigns.
For those working with SEO, understanding the positioning history of the keywords you work with is essential and that's exactly why SEMRush shows its strength. You can track not only your site's history but your competitor's as well!
Check here the available plans and start your analysis!
SEMRush main functions
The tool has numerous features which serve several types of digital marketing professionals, below I will list the main ones I use in my SEO projects.
Keyword analysis
As I said before, with SEMRush you can do a complete analysis of the keywords that your site (or your competitor) is positioned for. With this, it becomes possible to generate insights on which keywords to work on your SEO project or sponsored links. Below we can see an example of the dashboard for the domain google.com and for which keywords the site is ranking with their respective positioning.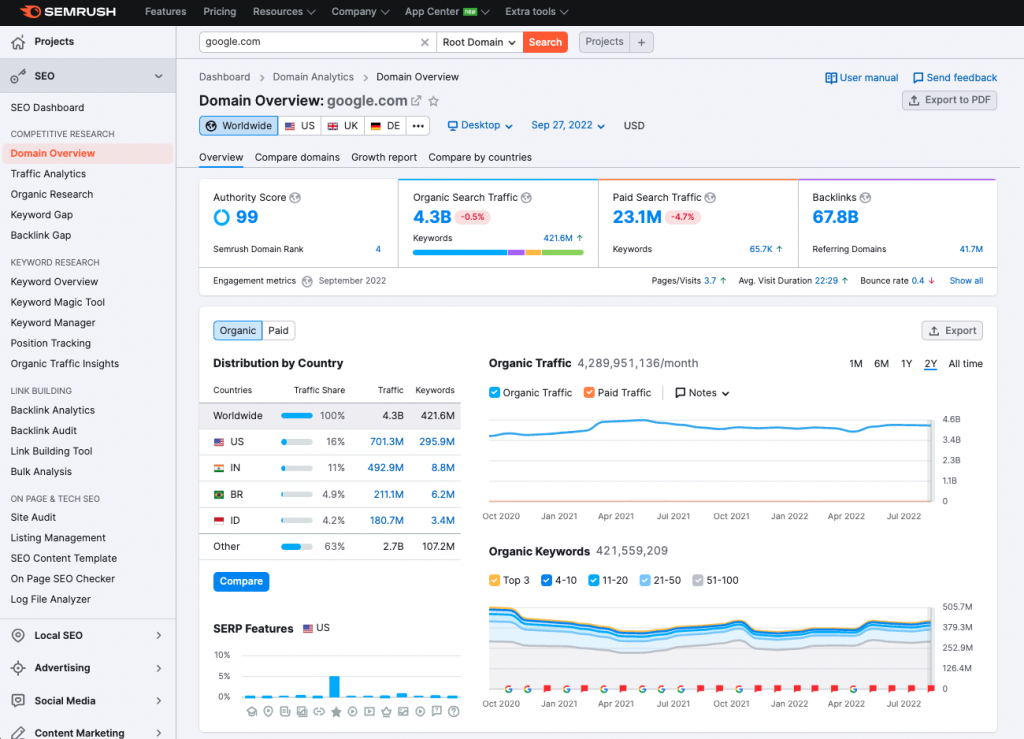 In addition, it is possible to analyse a specific keyword and find variations of it, search volume, SERP result, CPC and several other information:
Competitor analysis
In my personal opinion, this is the most powerful feature of the tool, because it allows me to analyze not only my site, but all my competitor's sites and then compare them. The main reason to use this is to find out what keywords your competitor is ranking for that you do not work on yet.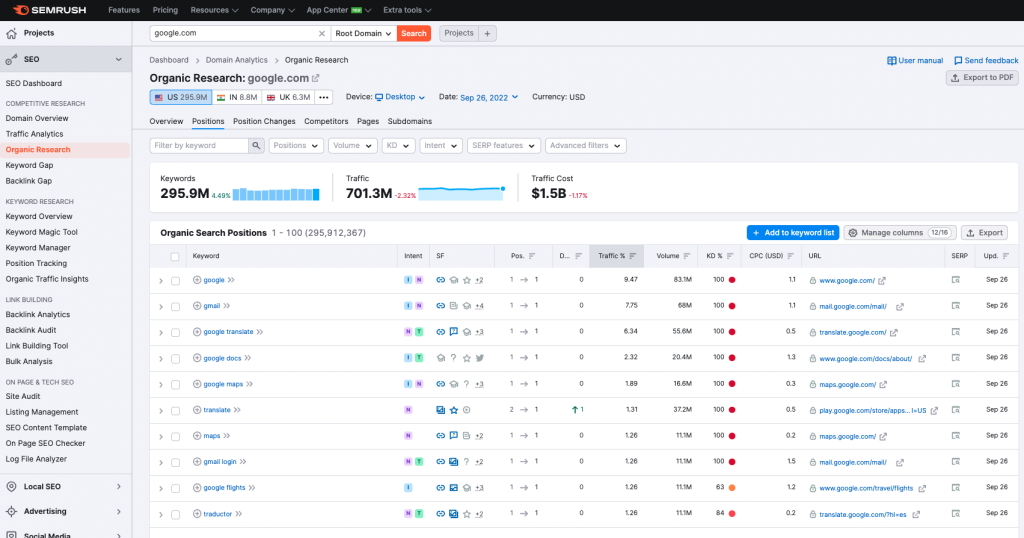 Often it is possible to find good long-tail opportunities with low competition that can generate quite considerable traffic to your site.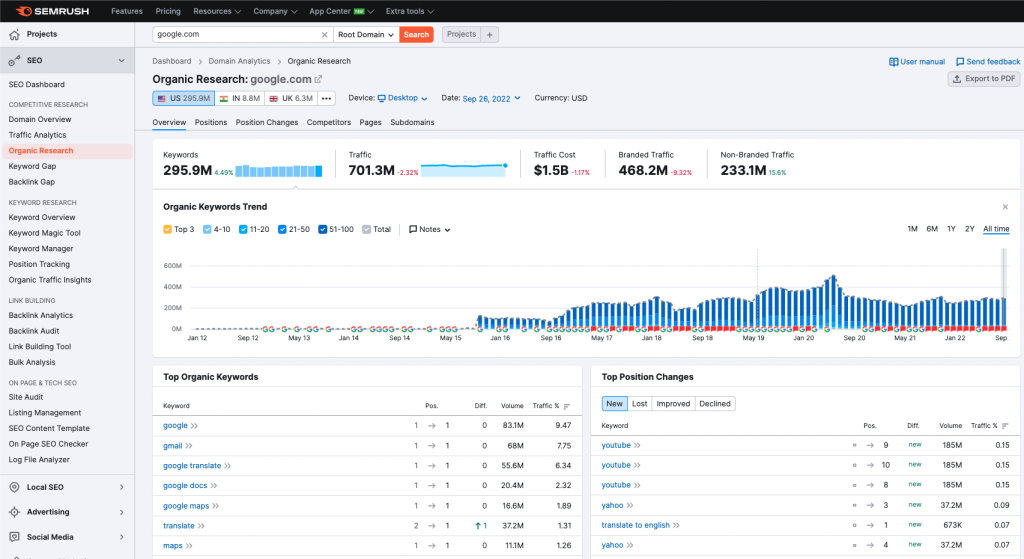 As can be seen in the image above, the tool shows very important information such as keyword positioning, indexed URL, search volume, and the site's evolution graph both in the number of keywords and traffic generated.
In some cases, the graph can show a sharp drop in traffic, which is often used by me and other SEO experts to identify possible punishment by some Google algorithm update.
Create and track SEO projects
What makes SEMrush one of the best digital marketing tools on the market is that it allows you to create exclusive campaigns for your sites with several automated actions so you can analyze all this information in a simple and practical way.
By creating the project, you can configure the tool to make a complete audit of the site to discover its "health" in organic search, as well as monitor the positioning of the keywords chosen.
In addition, there is the possibility to connect your Search Console account and Google Analytics, to receive an audit of the backlinks received by the site, insights from organic traffic and branding monitoring across the Internet.
The possibility of use is huge and each professional should use the features they prefer and make more sense for their business.
Plans & Prices
The tool has monthly or annual payment options, always in dollars (USD), so it is necessary to have an international card to subscribe to the service.
Currently, the tool has 3 plan options, PRO, GURU and BUSINESS. The monthly values range from $119.95 to $449.95 and can reach a discount of $900 in the annual plans.
If you have few projects and are just starting out, the recommended plan is the initial PRO plan which costs $119.95/month, but if you have an agency or more than 5 projects, the recommended plan is the GURU plan, which costs $229.95/month.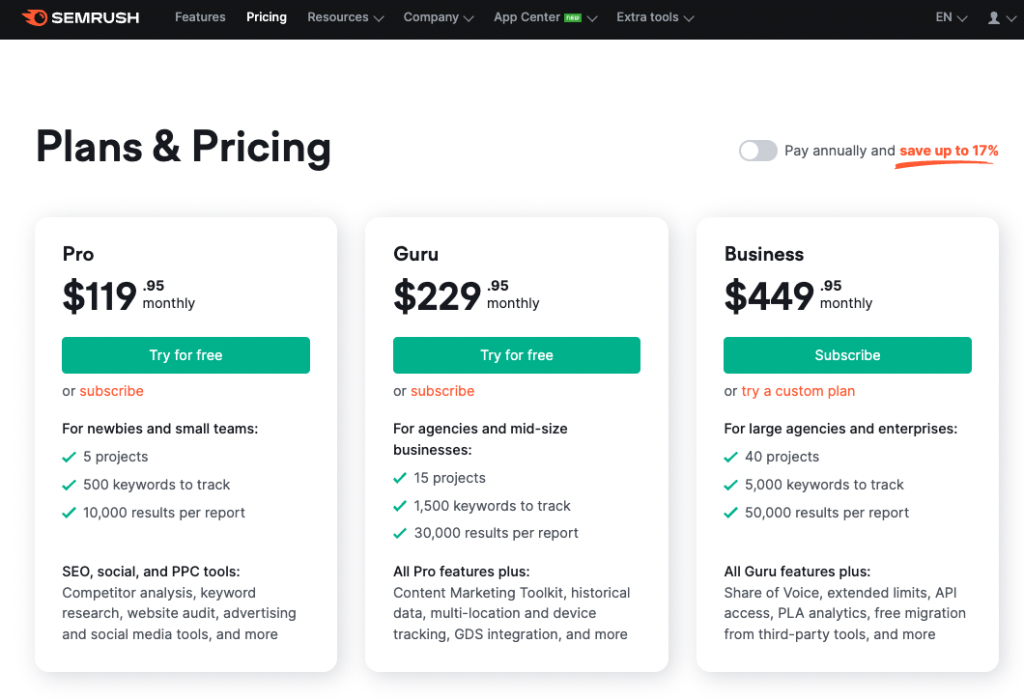 Conclusion
It's important to keep in mind that regardless of which digital marketing tool you use, it is essential that the professional has an analytical profile because it is necessary to know how to analyze and make decisions based on the data that the tool provides. Therefore, always use the tool as an aid that will provide inputs and data so that you, the SEO specialist/analyst, can make strategic decisions for your project and steer the right course for the campaign.
Get to know the tool and start your campaigns now!
Hey,
what did you think of this content? Tell us in the comments.